Angelic voices fill the lobby of the Manila Peninsula as the Loboc Children's Choir (LCC) rehearses for a Christmas performance together with the Philippine Philharmonic Orchestra. Later, they transfer inside to one of the function rooms to have their merienda of spaghetti.
Led by their conductor, Madame Alma Fernando Taldo, all the 26 members of the choir run through their repertoire of Christmas carols. The choir is in Manila for a limited period only but they have a very hectic schedule. After its series of performances in various functions, they would be flying back to their hometown of Loboc in Bohol and just in time for the holidays.
The children are unbelievably well-disciplined. One would expect that having so many children in one room, there would be rowdy behavior, running around, squirming and constant chattering. Instead, the children sit on their seats and dutifully sing their songs, and even waiting till the end of their rehearsals before munching down their meals. They even prepare their own costumes and make-up before the show.
Back home a grand welcome awaits these magnificent children. LCC just returned from a successful three-month tour of Europe for a concert tour dubbed TUBOD, a Musical Journey for heritage and peace, organized by the Metropolitan Museum of Manila (MET). The choir bested adult choirs from the United States and Europe and brought home two major awards from the "Europe and Its Songs 6th International Folksong Choir Festival" held in Barcelona, Spain. According to a press release circulated through email, "the LCC rated 97.5 points which earned it the First Prize with a Gold Medal in the Children s Choir category. The international jury likewise awarded the Loboc Children's Choir the EUROPE AND ITS SONGS 2003 CUP for having achieved the highest mark, surpassing the marks of twelve other international choirs."
LCC's repertoire included: Ampeu Se-lo by James Swu; Ugoy sa Duyan by Lucio San Pedro; La Pastoreta, a Catalan folksong arranged by Ed Manguiat; Leron Leron Sinta, a Tagalog folk song; and Ave Maria by Gustav Holst.
"We didn't expect to win," says Taldo. "We just participated because we are asked to join." She says that given the chance, she would rather have the choir perform "for local consumption not actually for competition." Nonetheless, Taldo adds that winning the competition made their trip very memorable.
President Gloria Macapagal-Arroyo has made their victory more memorable by awarding them a cash bonanza of P1 million for "cultural excellence." The cash reward was given to LCC after they sang during a Holy Mass held at the Malacañang last November 30, only five days after they arrived from the European tour.
LCC has always been an award-winning choir. Founded in 1980, LCC has been a constant winner in the National Champion of the National Music Competitions for Young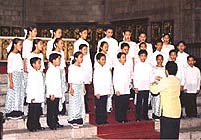 Artists (NAMCYA) - Children's Choir Category, the most prestigious music competitions in the Philippines. It won first prize in 1993, 1995 and 2001. In 1996, in a concert dubbed, "On Angels' Wings: From Bohol to the World," the choir toured key cities in the United States. It also represented the Philippines during the 2000 International Children's Culture and Arts Festival held in Tianjin, China.
According to Damaris Taldo, daughter of Madame Taldo and coordinator of LCC, the European tour was a "life-altering experience" for the children. Coming from simple families in rural Bohol, the children gained a wider perspective of the world as a result of the foreign travel.
Fourteen-year-old Noel Kerr Cañeda, who has been with the choir for three years, expresses his delight in being able to go to Europe and visit places such as the Disneyland in Paris. He also says that being part of the choir has allowed him to perform before important personalities including the president of the country.
Damaris, an alumna of LCC herself, says that winning in Spain was such a unique experience for LCC and the entire island of Bohol. "I think that it's an accomplishment that we made people aware that this town exists in the Philippines. Meron palang Bohol. We brought the name of a town totally unheard of in Spain."
She says that for a time the staff was even considering using the name Bohol Children's Choir instead of Loboc but she totally disagreed with the idea. Loboc is one of Bohol's oldest towns. Founded in 1602, it has been dubbed as the "Music Town" of the province.
"Our uniqueness comes from village," she explains. "Yung mismong musicality ng mga batang ito come from the town itself." She narrates that growing up in Loboc, it has always been natural for each and every Lobocanon to be musically inclined.
"Yung mga ancestors namin, yung kinagisnan namin, we all think na lahat kumakanta," according to Damaris. "I can safely say that 80% of the homes in Loboc may karaoke, may gitara, may ukulele, may piano, kahit anong musical instrument."
Even though music seems to run in the blood of the Lobocanon, it is sad to say that none of the graduates of LCC has actually pursued a musical career.
"In the province, music is seen as a course that is pursued only by the rich," explains Damaris. Damaris is a perfect example. Though music is her first love, she had to take economics as her course when she entered college in the University of the Philippines. It was a good thing that she was able to join the UP Singing Ambassadors, where she extended her passion for choral singing.
The present and future members of LCC who wish to pursue careers in music need not suffer the same fate. The members, alumni and staff of LCC have formed the Loboc Socio-Cultural Multipurpose Cooperative to support the education of deserving members of LCC.
"What we are trying to do is to establish a scholarship fund for children who would like to pursue a career in music and the performing arts," explains Damaris. But there is a catch. She adds, "They have to go back home and teach kasi we are also trying to establish a school for performing arts."
LCC has recorded its latest CD, entitled ... And A Child's Heart Sings. The CD contains a selection of the music performed by the Choir including "Sitsiritsit," "Leron Leron Sinta," "Sa Ugoy ng Duyan," "Ave Maria," "The Lord's Prayer" and a medley of Visayan folksongs. The songs were recorded in the St. Peter the Apostle Church in Loboc.
For information on how to purchase the CD, contact LCC through Lutgardo Labad and Damaris Taldo at the St. Peter the Apostle Convent Loboc, Bohol at telephone number +63-38-537-9022 or visit their website.